Vinyl is living a second youth. We live in a time where finding and playing your favorite music is easier than ever. De streaming services such as Spotify and Apple Music can be played from any device anywhere. Yet the world of vinyl has been on the rise since 2007.
This is for a large part thanks to nostalgia where people are pulling their old record players and records from the attic. People that are longing for that warm and quality sound that only analog systems can give. However, also the new generation is interested in vinyl and when you go to the vinyl market you find lots of young people searching within the record stands. This generation is embracing vintage as a counteract to the consumer society. But for the most part with everything getting digital they want that feeling of searching, ownership and physically having something in your room.
We think these are the best wooden turntables:
After having tested dozens of turntables, we have narrowed down our list to models that have the option to choose a wooden casing. From that list, we have filtered out the best turntables based on the materials used, the features, the design, the ease of use and above all the sound quality. Besides our own experiences with these models, we have also looked at other expert opinions and user reviews to check the track record of these turntables after longer usage. With this list, we have also tried to cater to a wide audience from the more budget beginner to the more expert audiophile. We consider the following five wooden records players to be our favorites:
Wooden design
Now when choosing a record player audiophiles will tell you that design is the last thing to look at. And we actually agree with that statement, first, you need to look for the materials used, the built-quality, individual components such as cartridges and preamps and last but not least, the actual sound. However, in today's turntable market there so many new models introduced that good turntables can be found left and right. Therefore you have the option to also counter in design when buying your record player. We feel, that because technical features such as Bluetooth and USB are getting more widespread within different models, that the design of the record player will play a more important role in the future of vinyl.
And when it comes to wooden turntables, I get the appeal as I actually have one myself. It just fitted perfectly into my living room that is a mix between vintage furniture, plants and modern electronics. And the retro vintage look of the wooden plints is not really new of ocurse. It is mostly based on a few of the classic turntable models such as the Linn Sondek LP12 that is still a highly valuable turntable. It is understandable that people not only want to experience the material feel they get from the records themselves but also want to display the vintage feel as a centerpiece in their interior.
Besides the look, A wooden casing can actually provide the device great isolation which helps to create a resonance-free sound. Resonance is just one factor to keep in mind when buying a turntable. Because besides the look and material there are other factors you should consider when buying a turntable. Take a look into our guide on what to look for when buying a turntable and what to avoid. 
Now we have talked enough about what makes wooden turntables so great. This article will give you a list of what we consider to be the five best wooden turntables. Read on to discover which model can suit your preferences!
Audio Technica AT-LPW40WN
A great modern design and decent sound.
The AT-LPW40WN by Audio-Technica is a fully manual, belt-driven turntable. We are just in love with the design. The walnut look makes it perfect for almost any interior and the device just is a real charmer.
I can't talk enough about how I really like the design of the LP40WN. With its clean looking plinth made from simulated wood giving that vintage walnut look. At the same time because of its simple lines, sleek look and carbon-fiber tonearm it also has a rather modern feel to the device.  The platter is made from aluminum and features a rubber mat which in combination with the one-piece plinth helps to reduce resonance. It makes design and style also an important factor ad lots of people don't want a DJ like turntable in their livingroom.
Now the sound itself. The turntable features a carbon-fiber tonearm with an AT-HS4 ½''-mount headshell and an At-WM95E Dual Moving Magnet phono cartridge. These in combination with the built-in preamp provide dynamic sound that is reasonably balanced but can be perceived as a bit on the light side. Of course, the built-in preamp can't compete with more expensive external preamps but then again you have the option to bypass the device and upgrade your setup with an external one. The motor is sensor-monitored: it ensures accurate rotation speed and reduces frequency fluctuations that result in poor quality sound. Overall the sound quality is decent and just about what you expect for the price.
In terms of use the AT-LPW40WN supports two speeds – 33 ⅓ and 45 RPM – and you can simply switch between one another through the handy knob on the plinth. The system is fully manual which is quite coming with hifi truntables. So keep in mind you have to manually lift the tonearm and place the needle on the track.
Lastly, the AT-LPW40WN comes with a transparent plastic dust cover that protects the record even while playing.
Pros
» A modern and minimalistic walnut design.
» A belt-driven system that minimizes resonance.
» Built-in preamp and an option to bypass it.
Cons
» Fully manual so it might be getting used to for beginners
A high-end turntable made from premium materials.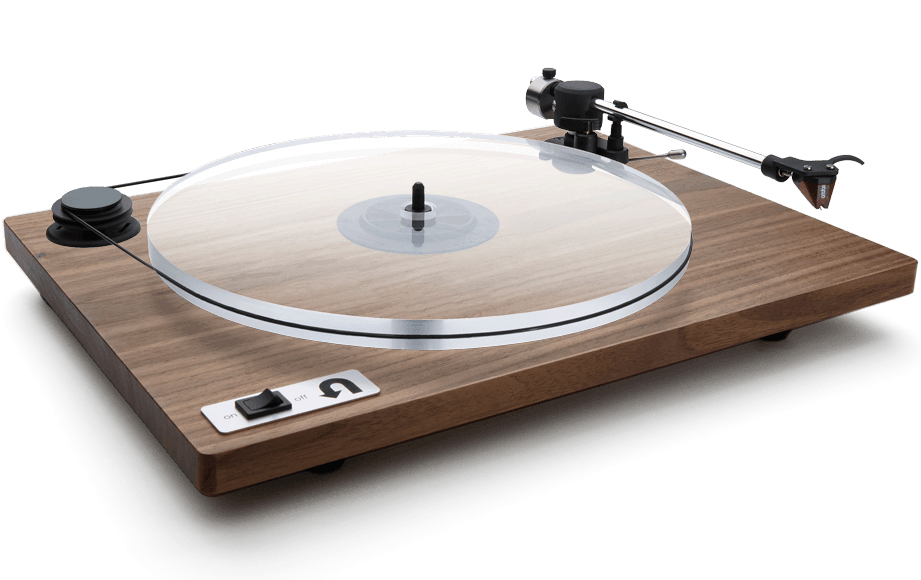 This is one of the models that is more focused on audiophiles as it features high quality materials and a really high-end cartridge. It is another step up from the review we did of the U-turn Audio Orbit Plus, which we actually really liked.
The U-Turn Orbit Special is an elegant turntable with a hardwood rift walnut plinth. Instead of MDF compressed wood, this turntable is made from solid wood, sourced from sustainable forests in Indiana and Pennsylvania. It features a slim and modern design that can fit both vintage and modern furniture.
What's is also special about this turntable is the transparent platter and the visible belt that right alongside it. This in combination with the one-piece hardwood plinth gives is a minimalistic look that a lot of people will enjoy. The transparent platter is made from acrylic material, a material that is only used in high-end turntables providing improved speed consistency and detailed playback.
As we've already mentioned and you can easily notice, the system is belt-driven which always provides better quality sound, and it supports two speeds: 33 ⅓ and 45 RPM. To enhance the quality of the sound and reduce disturbance, this U-Turn Orbit Special has been also provided with a low-noise AC synchronous motor. I can't stress enough how the reduction of resonance should be one of the main goals of a great turntable.
The tonearm is like many high-end turntables manually driven. Meaning it has an adjustable counterweight and it comes with a cue lever that with moving an placing the needle on the record. This way you will risk damaging neither the needle nor your record.
The U-Turn Orbit Special comes with the top-quality Ortofon 2M Red with an elliptical diamond stylus that is able to reproduce the most accurate sound. Since the cartridge transmits the source of the audio sound it can make a big difference. We found the Ortofon 2M Red to by really dynamic and transparent. It can play any genre while remaining balanced and detailed. 
The U-Turn Orbit Special comes in two options: with or without a built-in pre-amplifier. If you opt for the built-in pre-amp model, you'll be able to connect your device directly to any powered speakers or amp. No phono input or external pre-amp will be required. You can also choose to bypass it: you can disable the built-in pre-amp through a switch and use your turntable with an external phono amplifier of your choice. While audiophiles often go with the latter option it can be good choice to start out with a built-in preamp and upgrade later on.
Pros
» The cartridge Ortofan OM5e produces really transparent and dynamic sound.
» High-quality materials, with a one-piece plinth made from sustainable solid wood and an acrylic platter.
» The low-noise AC motor is amazing.
Cons
» The tonearm needs manual handling. 
House of Marley Stir it Up
A budget option made from sustainable materials.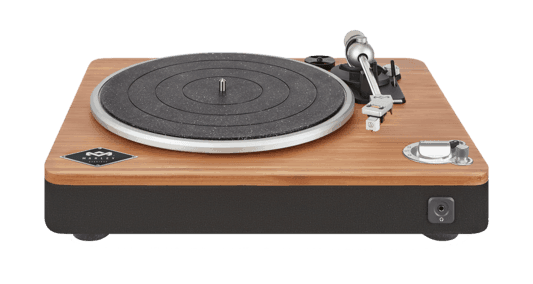 The Stir It UP Turntable by House of Marley is pretty great budget option on this list. It has the right balance between materials, features and price.
Now the brand might set some people off thinking this can't be a quality product however this turntable proves there brand is capable of producing decent turntables. In fact, House of Marley manufactures its audio products only using sustainable materials and resources; this Stir It Up turntable features a solid bamboo plinth and a recyclable aluminum platter. Also, every other material utilizes is sustainable and eco-friendly: REGRIND silicone, REWIND fabric, and recycled plastic. The result? A design that is simple and modern.
The Stir It Up is a belt-driven turntable and supports 33 RPM and 45 RPM records. The turntable is completely automatic, meaning you don't have to manually lift the tonearm on to the record. The best way to protect your records from scratches and shocks.
The system features a built-in pre-amplifier so that you can directly connect it to any speaker: it is also possible to bypass the built-in pre-amp through a switch off lever on the back so you can connect the turntable to any external phono amplifier. Usually, this one of the first upgrades a vinyl enthusiast will do. Another thing to point out is that it features an Audio-Technica MM Cartridge. MM Cartridges are easy to substitute and can also be upgraded.
Both the cartridge and the preamp are of decent quality. While this is of course not the standard of high-end turntables it certainly is a really good sound quality that the average music listener will enjoy. It can be described as transparent and bright. 
This Turntable also has a very interesting feature, especially if we take into consideration its very affordable price: it features a USB port through which you can connect your record player to your PC and convert your vinyl albums into mp3 format. It works pretty well and can be considered a nice addon to the package.
Pros
» Fully made from sustainable materials.
» Decent sound quality, a clear step up from other budget models.
» USB output to digitize your records.
» Easy to upgrade the cartridge and preamp making it a great starter turntable.
Cons
» The dust cover is made from fabric, so it actually hides your turntable.
Reasonable price and high performance.
If you are looking for decent and still affordable turntable the RT81 has quality components where it matters in terms of the cartridge and preamp and still is well priced below $250 at the time of writing. Because of this, we have also included it into what we consider the best-valued turntables for the money.
The Fluance RT81 features a classic design with a stable cabinet made from solid (MDF) wood with incorporated isolation feet. The platter is made from aluminum with a rubber slip mat to provide isolation from any kind of vibration. The S-shaped tonearm maintains the perfect angle to ensure the needle is in line with the track at all times.t
The Fluance RT81 comes with an Audio-Technica AT95E cartridge, a magnet stylus that can rest on the record with only 2.0 grams of tracking force (to prevent your records from damage). The stylus features an elliptical shape to ensure clarity and eliminate distortions. Since the needle picks up the sound source it makes a huge difference in overall sound quality. The fact that this is a branded cartridge is therefore quite remarkable for the price of turntable.
This turntable also features a Texas Instrument preamp. In the back of the device, you'll also find a ground terminal and RCA line outputs. It is possible to turn off the pre-amp and use the turntable with any external amplifier. One of the most common upgrades vinyl enthusiasts make. 
The system is belt-driven and 33 ⅓ RPM and 45 RPM speeds are supported (you can switch between the two through the handy knob on the plinth). The system is also semi-automatic: it features an auto-stop function. When the record ends, the tonearm automatically lifts and goes back to its resting position while the platter automatically stops.
The Fluance RT81 comes with a transparent plastic dust cover attached to the plinth that completes the classic design and protects both the turntable and your records while playing.  Lastly, the turntable is easy to set up and easily upgradable making it perfect for beginners or casual vinyl listeners. 
Pros
» Solid plinth and classic design.
» Premium cartridge (Audio-Technica AT95E) and built-in preamp.
» S-shaped tonearm.
Cons
» Fully manual so it might be getting used to for beginners
A cheap option with a lot of features.
If you are a complete beginner in the world of vinyl and you're still not sure whether or not if this is the world for you, the ION Audio MAX LP can really suit you. It's cheap, it has a built-in speaker, and it allows you to convert your old records into digital files. A lot of features for a really small price.
Since this turntable is in alower price range I would assume this shown directly in the design. However, I think this turntable is rather good looking as it holds a plinth with wood finish and on top black features such as the platter, tonearm and speakers. The MAX LP turntable is very compact – 4.06'' x 16.46'' x 15.24'' –  especially if you consider that you don't even need to connect it to external speakers. It features a transparent dust cover that can even protect the turntable and the records while playing. 
Thanks to the built-in speaker, you can just put on your favorite records and start listening to them. Now to be honest, I don't find the internal speakers very good. If you are a really occasional vinyl listener it might work for you because of the price but in general, I would avoid using these speakers. Luckily, you can also connect the device to any external speaker through its standard RCA outputs or connect your headphone via the aux output for private listening
In terms of features, the ION Audio MAX LP supports playing 33 ⅓, 45 and 78 RPM records as it comes with custom adapters. The turntable is a manual system where you need to move the tonearm however it does have an autostart and autostop function, the record starts spinning when the tonearm is lifted and stops playing when the record has ended. Convenient for people that like to fall asleep with music in the background.
What is remarkable for the budget is that this device also comes with a USB port with which you can digitize your records. The package comes with a USB cable and digital software, with this you can simply hook the turntable to your computer and start converting your record collection to digital audio. Perfect for preserving music or listening to that special vinyl sound on other the device or on the go.
Pros
» Only decent sounding low budget model.
» Comes with a built-in preamp.
» USB output to digitize your records.
Cons
» Average sound quality of the internal speakers.
What's the best wooden turntable for you?
When we researched most of the wooden turntables on the market we came to the conclusion that there are actually a lot of wooden models around. That is why we have tried to look at some nice models in the whole spectrum of the market, form budget to high-end and from nice beginner models to turntables for audiophiles. Here is the breakdown.
Beginners
If you are new to the vinyl world, you may want to avoid spending too much while still getting a decent turntable that can make you appreciate your new vinyl collection.
Your cheapest option ould be the ION Audio MAX LP. Not only is it the most affordable in this list, but it also the only one that features built-in speakers. And to be clear the speakers are not very good, but if you are occasionally listening it can be an option. You can of course also connect it to external speakers and amplifiers. The turntable is not made from premium materials but what we do like is that it offers a lot of features such as a built-in preamp and USB output. 
Mid-range
The cheapest option in the mid-range is House of Marley Stir It Up. It is fully made from sustainable materials and offers rather good sound. The cartridge and built-in preamp are branded components that offer quality sound and can easily be upgraded. And for those who'd like to digitalize their records, it features a USB port that allows you to connect the turntable to your PC.
Another great option is the Audio-Technical AT-LPW40WN which we think might be the best-looking design. It also features a quality built-in preamp, decent sound quality and resonance-free built. 
Lastly, a more classic look can be found in the Fluance Rt81. This turntable is really well built with an s-shaped tonearm and one-piece plinth. Since it also features a branded Audio-Technica AT95E cartridge the sound is really good. It has the most premium components within this midrange. 
High-end
For audiophiles, we recommend the U-turn Audio Orbit Special which we actually reviewed more in-depth here. The top model from a company that produces its handmade models from the US. It features a high-end cartridge in the Ortofan OM5e that produces amazing transparent and detailed sound. The materials used are also top-notch with a one-piece solid wooden plinth and an acrylic platter. The AC low noise motor is rather special as it is considered to really speed consistent and resonance-free. If you are looking for the absolute best sound quality and components while still having a beautiful wooden design, this is your best option.
Looking for something else?
If you are looking for a turntable with a specific feature or within a certain budget you can take look at one of guides below.