If you want to get the best audio from your vinyl records, you need the right turntable. The turntable is responsible for picking up the sound, which makes it the first point of contact and most essential piece of equipment in your audio setup.
Cheaper turntables lack the features needed to reduce vibrations and resonance, which can easily degrade the quality of your audio. Buying a high-end turntable can help you avoid these problems but they also tend to cost quite a bit.
Before spending money on a high-end turntable, you should compare options. Whether you want a better value or superior sound, here are three of the best audiophile turntables.
We think these are the Best Audiophile Turntables
What Were the Considerations?
The most importent thing to consider when buying a turnable is your usecase. What are the most important factors for you? Audio quality, connectivity with your current audio setup, design, upgradability or special features such as bluetooth, usb or DJ controls.
In this case we assume since we are talking about turntables for audiophiles that audio quality is the most important to you. It actually difficult to pin down as it comes down to personal taste. But in general you want to look for a turntable that offers a dynamic sound which has wide soundscape, this means that you are able to hear each sound layer separately and in detail. Especially the tightness in the lower spectrum is an important hurdle, so look for sound with a tight bass.
The second factor is a balanced sound. you don't want to have sound that has too much bass or is too treble heavy.  A balance sound helps accurately displaying your music and makes it suitable to play every genre. This means you can happily play classical music and heavy techno without worrying if it is accurately displayed.
Now, in order to create the best sound quality a lot of other factors come into play. We have narrowed it down three factors we special attention to while reviewing the turntables; build quality, audio components and price.
Build Quality
One of the most important aspect audiophiles look at is build quality. Not only for. better handling and endurance but also for reducing resonance.
First we looked at the materials used in the turntables. You want to avoid any plastic material or the overuse of aluminium since these materials tend to be lighter an can therefore more easily transmit resonance from the surroundings. Materials like MDF and solid wood are often a better more premium choice since these are heavier and sturdier.
Also when it comes down to handeling components like the tonearm, cartridge and platter the materials used are also very important. This most because of endurance but it can of course also influence the sound quality. Acrylic is a premium material only used in high end turntables for its platter, because of the material and its weight it reduces resonance and improves speed consistency. For the tonearm a sturdy material like carbon fibre or stainless steel is preferred. And of course for the cartridge a fully diamond needle is the only one you should consider.
A second aspect we took into consideration was if the design consisted of many parts. There is simple rule with turntables, less parts result in a lower chance of possible resonance. For example many low budget turntables have a plinth that consists of many (mostly plastic) parts molded or screwed together. Instead you preferably want have a one piece plinth in which most components are build into or mounted underneath.
Audio Components
Audiophiles know that a few components within any turntable setup influence sound quality the most.
The most important one is of course the cartridge as the stylus picks up the sound directly from the record. A great branded cartridges can make all the difference. Brands such as Rega, Audio Technica or Ortofon all have great cartridge lineups that perform well. The difference in quality mostly comes down to the material, which is always diamond in the high-end segment. The shape, mostly elliptical. And whether is an MM, MC or VM cartridge. And while sound is personal you are always better off with a decent branded cartridge such as the 2m red by Ortofon then a non branded built in one. 
Talking about the motor we looked at two important factors. Reducing resonance and speed consistency. First of all the motor should be low noise to avoid any resonance while the drive type doesn't really matter anymore in in the modern turntable, it can be direct drive or belt drive. 

As for speed consistency it is importent to look into how consistency the turntable really is. An important specification to look at this the amount of wow and flutter, which is a term for how much distortion is hearable for the listener. Most turntables range between .10 and 20 percent but for audiophile turntables we expect even less.
The last component we looked into is the preamp as it can also have a big influence on the sound. In most cases an audiophile turntable does not come with a built in preamp so you will need to connect it to an external preamp or amplifier with phono input. However when it does come with a preamp look into if te preamp is fully adjusted for the cartridge that comes with the turntable and check if there is a bypass button present as it allows for upgrading later on.
Price
Of course the price can be a big influence on your decision. The differences within the  audiophile segment can be are enormous. It ranges from about 400 dollars to a couple of thousand. But what do you exactly get for such a high price and we do we only focus on the reasonably priced in this guide?
We feel that in general turntables costing more 2000 dollars are only interestingfor the very few. They often feature really expensive materials or features like a floating motor, which in most cases don't really add that much more to the experience or the audio quality.
For this reason we feel that most higher-end turntables in the 400 to 1500 dollar range are sufficient for the regular audiophile. They still provide great sound coming out of a premium cartridge and they still offer amazing build quality that reduces resonance. On top of that almost all the turntables mentioned have the option to upgrade your setup later on, if you feel like getting even more serious.
Top turntable with a modern design.
Dimensions: 414mm W x 342mm L x 132mm H| Operation: Semi-Automatic Motor: Belt Drive | Phono preamp: Yes | Speeds: 33 ⅓, 45, 78 rpm | Cartridge: Moving Magnet
---
The Denon DP-400 is one of our top turntable picks in the current since we reviewed it in-depth. 
Design: The turntable features a slim, modern and sophisticated design that is made up by a glossy aluminum plinth that feels strong and premium. The colors available are black and white. The Denon DP400 comes with a removable dust-cover that can be placed upright and also acts as a cover holder, although the modern design might not be for everyone.
Build Quality: It is mostly made out of aluminum used not only providing a modern feel but also the strength and density to reproduce resonance-free sound. The thick cabinet walls and the weighted platter provide the best isolation from external vibration.
Components: The Denon DP400 is like most high end turntables a belt-drive one which helps it isolating the motor vibrations. What is different from other turntables in this is list is that the Denon is semi-automatic system as it has a auto-stop function that as soon the record ends, would automatically lift the tonearm and turn to its resting position. A modern touch.
The turntable also has the option to play 78rpm which is rare. We found that the motor is really accurate as the turntable features auto speed sensors which results in a wow and flutter of just 0.08%. 
The included Moving Magnet (MM) cartridge is not like most others on the market, but more on the sound later. It is also compatible with Moving Coil (MC) cartridges. What is also rare in high-end turntables is that it features a built-in preamp with a bypass. We found the sound quality reproduction and connections with the other components to be really good so upgrading to an external preamp is hardly worth it.
Sound Quality: The Denon DP400 simply offers high-end quality sound. The sound is warm, transparent, and really detailed. While it could have a more refined bass we find that the sound is really balanced making it perfect to enjoy any genre. The heavy weighted platter, belt drive system and cartridge do a great job of cutting out any resonance, we heard none.
Pros
» A modern design and high build quality.
» A total package including a really good preamp. 
» A belt drive semi automatic system that makes it easier to use.
Cons
» There are better Cartridges on the market than the MM one featured.
Reasonable price and high performance.
Dimensions: 17.5 x 15 x 4.5 inches | Operation: Manual Motor: Belt Drive | Phono preamp: No | Speeds: 33 ⅓, 45 rpm | Cartridge: Rega Carbon
---
The Rega Planar 1 is widely regarded as one of the best entry-level turntables. It offers easy setup and excellent sound at a reasonable price.
Design: The Planar 1 turntable measures 17.5 x 15 x 4.5 inches. As with other turntables in the Planar series, the Rega Planar 1 has a sleek, minimalist design. You can choose between a white or black gloss finish. The on/off switch is hidden under the front left corner of the base, which keeps the top of the plinth clean and tidy.
Build Quality: The Rega Planar 1 features excellent build quality, ensuring many years of enjoyment. While this is considered the company's entry-level turntable, it still undergoes the same quality checks and rigorous standards.
Components: The Planar 1 turntable includes a built-in tonearm and cartridge. The included cartridge is a Rega Carbon cartridge featuring a moving magnet (MM). However, it does not come with a pre-amp.
The tonearm features a rear-mounted weight that allows any beginner to easily set the downforce for the cartridge. Instead of needing any tools, you simply press on the weight until it reaches a stopping point.
As with most of the high-end turntables, the Rega Planar 1 is a manual, belt-drive turntable. This isolates the platter from the motor to keep noise from passing through the belt. Rega also decided to stick with manual operation for the tonearm, which eliminates the gears and components needed for an automatic turntable. With fewer moving parts, the turntable is more likely to stand the test of time.
Sound Quality: With the Planar 1, Rega continues to release turntables that faithfully reproduce the sounds on the record. You get a full-bodied sound with no extra warmth, feedback, or significant resonance.
Pros
» Best budget option. Amazing quality sound quality for the price.
» Minimalistic design. 
» Decent Rega Carbon cartridge.
Cons
» The Cartridge is not on the same level as others on this list.
Reasonable price and high performance.
Dimensions: 17.5 x 14.20 inches | Operation: Manual Motor: Belt Drive | Phono preamp: No | Speeds: 33 ⅓, 45 rpm | Cartridge: Elys 2
---
The Rega Planar 3 (P3) brings several updates to its predecessors, stepping up the performance of an already great turntable. First launched in 1977, the Planar 3 has an updated tonearm, lightweight plinth, and the Elys 2 cartridge.
Design: The design of the Rega Planar 3 stands out for its simplicity. The plinth is solid red, black, or white and measures 17.5 x 14.20 inches, taking up slightly less space compared to some of your other options. The Planar 3 turntable does not include a pre-amp, USB ports, or Bluetooth connectivity. It is simply a high-quality turntable designed to pick up and transfer sound with greater clarity and precision.
Build Quality: The Planar 3 is built in Rega's UK factory. Each turntable is carefully constructed and inspected before shipping, ensuring superior build quality.
Components: The Planar 3 includes the hand-assembled Elys 2 cartridge. This moving magnet cartridge retails for about a third of the price of the Planar 3 and includes a three-point mounting system. Using three mounting points instead of two makes the cartridge to install and set up.
The platter is made from half-inch-thick glass, which improves accuracy and sharpness. The Rega Planar 3 also features a manual belt drive and a manual tonearm. The new tonearm includes a low-noise 24v motor assembly that is individually tuned to reduce vibration.
The plinth is made from super-lightweight material and includes a phenolic resin double brace near the tonearm and main hub bearing. This design results in less transfer of unwanted resonance, giving you clearer sound.
Sound Quality: The combination of updates given to the Rega Planar 3 help to deliver a more natural sound. The updated plinth and tonearm reduce energy absorption, resonance, and distortion. You get clearer audio without noticeable humming from the motors and bearings.
Pros
» Great build quality with a one piece plinth and glass platter.
» Fully made in the UK. 
» The Elys 2 Cartridge provides amazing sound.
Cons
» Fully manual so it might be getting used to for beginners
Reasonable price and high performance.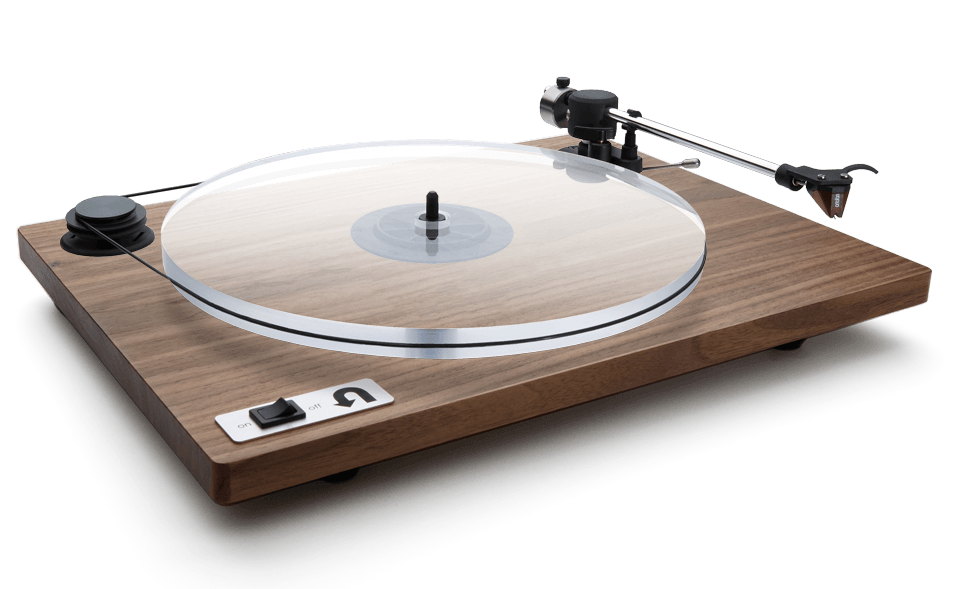 Dimensions: 20.87 x 17.17 x 9.92 inches | Operation: Manual Motor: Belt Drive | Phono preamp: No | Speeds: 33 ⅓, 45 rpm | Cartridge: Ortofon 2M
---
The U-Turn Orbit Special is the top of the line model from U-Turn and a step up from the Basic and Plus version. It is one of our top picks since we reviewed it in depth here "U-Turn Orbit Special Review".
Design: The Orbit Special is a minimalistic modern design with a vintage touch because of the wooden plinth that comes in maple and walnut. The amount of buttons are kept to minimum with just an on and off button placed on the plinth. 
Build Quality: The thing that makes this model 'Special' are the materials used such as the plinth that is made from a one piece natural wood. Another great example is the platter that is made of acrylic, this is often only found in more high-end turntables that can cost a multiple of the Orbit Special. 
Components: The Orbit Special features a high-end motor that is normally only featured in turntables a multiple of the price. As all others on this list the motor drives the platter via a belt, thus protecting it from possible resonance.
It is a fully manual turntable where you have to move the tonearm and its cartridge to the beginning of the platter when starting and placing it back to its original position after playing.
The tonearm is made from stainless steel and the head shell is made from the same nylon material as the bearing. Besides the anti skate feature that is present the tonearm holds the premium Ortofon 2M Red cartridge which is known for its dynamic sound. The. Ortofon 2M Red is the top of the line model from Ortofon and has a detailed sound thanks to its elliptical shape. 
Sound Quality: Sound is often hard to describe but the terms that come to mind for the Special is detailed and transparent. The Ortofon 2M Red cartridge does a great job of tracking the grooves and you can really hear each layer/instrument shine on its own. Besides these dynamics the sound is also well balanced making it suitable for almost all music genres. No resonance or skipping was noticed during listening thanks to heavy quality materials and custom build.  
Pros
» Quality Materials. A plinth made from solid wood and an acrylic platter.
» Ortofon 2M Red. A top-notch cartridge that generates a rich and detailed sound.
» Fully Handmade in the USA. Quality manufacturing and testing on every individual turntable.
» A HiFi experience. The build quality and sound make it an overall high-end experience.
Cons
» Does not include a preamp. Very common in high-end turntables but keep in mind that you need to hook it up to an external preamp or an amplifier with a phono input.
Top notch Hifi Turntable with a floating motor.
Dimensions: 16.5 x 14.2 x 5.4 inches| Operation: Manual Motor: Belt Drive | Phono preamp: No | Speeds: 33 ⅓, 45 rpm | Cartridge: Virtuoso moving magnet
---
The Marantz TT-15S1 is a high-end turntable with several features designed to eliminate vibrations, including a floating motor and solid aluminum feet.
Design: The compact Marantz TT-15S1 measures 16.5 x 14.2 x 5.4 inches and weighs a hefty 19.6 pounds. The plinth is made from frosted acrylic and has three, adjustable aluminum feet. The plinth has a simple design with two cutouts for the motor and tonearm. To switch speeds, you need to manually move the belt to the appropriate pulley. This is a minor inconvenience but it only takes a few seconds to switch between 33 1/3 and 45 RPM.
Build Quality: The build quality of the TT-15S1 is superb. Marantz pays attention to every detail to ensure that you receive a durable, reliable turntable.
Components: The TT-15S1 is powered with a non-servo AC motor featuring floating mount construction. The floating motor design deadens vibrations and distortions to deliver crisp audio. This is a belt-drive turntable with a manual tonearm. It also has a thick platter with a felt slipmat. The platter sits on a suspended spindle for further vibration reduction.
The provided cartridge is a Virtuoso moving magnet cartridge. It features a lightweight aluminum cantilever, ebony wood body, and a diamond stylus. The Marantz TT-15S1 does not include a pre-amp.
The components will require assembly. The tonearm and cartridge are relatively easy to install if you follow the provided instructions. However, you may want to use a vertical tracking force gauge for optimal setup.
Sound Quality: The Marantz TT-15S1 sounds phenomenal when paired with the right audio setup. You should not notice any humming from the motor or vibrations from the plinth or platter. The floating motor and aluminum feet help eliminate vibrations and resonance that may lead to distortion while the Virtuoso cartridge helps pick up every note and deliver pure sound. 
Pros
» Floating AC motor.
» The Virtuoso Cartridge is of top quality.
» HiFi Sound.
Cons
» More expensive than other turntables on this list.